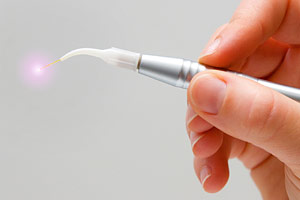 Laser dentistry is a service that uses lasers to treat a variety of dental conditions, including tooth decay and periodontal disease. A laser is a device that emits a concentrated beam of light onto delicate tissue. This light can disinfect the tissue, seal off blood vessels, and kill oral bacteria.
How Does Laser Dentistry Work?
Laser dentistry works by using a small, concentrated beam of laser light to target small areas of tooth decay. The laser will actually cauterize or burn the decay away. This makes treatment less invasive and more comfortable for the patient since we can target only the areas of decay.
Is Laser Dentistry Safe?
Laser dentistry is very safe. In fact, the dental laser is one of the safest tools in the dental industry. Dental lasers have been in use for more than 30 years, and the FDA has deemed them safe.
The dental laser works by emitting energy in the form of light. This energy never makes contact with the tooth. Instead, it interacts with the tissue, which absorbs the light. This process disrupts the tissue, causing it to break down. The laser also sterilizes the tissue, making it very safe.
What Are the Benefits of Laser Dentistry?
Painless procedure
Laser dentistry makes a lot of common dental procedures faster and more comfortable. In fact, several dentists use lasers in place of drills and other instruments to remove tooth decay and prepare teeth for restorations. Lasers can also treat gum infections and other soft tissue problems.
Minimal discomfort
Laser dentistry is a virtually painless method for reducing tooth decay, removing plaque, and whitening teeth. The laser acts as a cutting instrument as well as a gentle heat source. Lasers can also be used for gum reshaping, biopsies, and tissue growth.
Minimal bleeding
Laser dentistry minimizes bleeding by cauterizing soft tissues. Lasers use concentrated light energy to coagulate tissue and seal blood vessels. They can also remove gum tissue without harming the tooth. However, the bleeding in the whole process experienced is minimal and will subside on its own without intervention.
Less risk to teeth and surrounding tissue
Laser dentistry is safer for your teeth and surrounding tissue than a traditional drill. It won't damage your tooth enamel, and it won't create any microscopic fractures in your teeth. This preserves your tooth's structural integrity.
Instant results
Laser dentistry provides instant results. Your teeth will be perfectly whitened, and your gums will look healthy and refreshed. This means no waiting before the enamel is whitened and your gums look healthy. Instead, you get a perfect smile instantly.
Call Dentist Aurora CO at Briarwood Family Dentistry or schedule an online appointment to know more about laser dentistry.