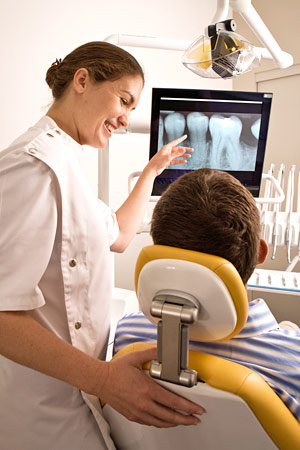 Digital x-rays can provide clear, easy-to-understand images. The images are uploaded instantly to the dental chairside monitor, so the dentist and patient can both view them. Your dentist can zoom in, crop, and adjust the image for better clarity. The digital x-ray process takes only a few minutes and is more comfortable for patients than traditional x-rays.
With the help of digital X-Rays, the dentist can capture detailed images of a patient's teeth, jawbone, and oral structures. This allows them to detect potential issues, such as tooth decay, impacted teeth, bone fractures, cysts, growths and tumors, and more.
How Are Digital X-Rays Different?
Digital X-Rays are safer for your body. The sensors that capture the image are digital, so there's no film or plate that needs to be replaced. The sensors are also smaller than traditional X-Ray sensors, so there's no need for lead shields.
Are Digital X-Rays Safe?
Digital X-Rays are safer than traditional X-Rays because there is no chemical waste or hazardous radiation to worry about. Digital X-Rays are also faster since they take less time for the dentist to interpret, and the patient's exposure to radiation is decreased.
What Are the Benefits of Digital X-Rays?
Better image quality
Digital X-rays use up to 90% less radiation than traditional X-rays, making them a safer option for patients. Additionally, the images tend to be clearer, so dentists can more easily read and interpret them. This can make for better diagnoses and treatment plans.
More effective diagnosis
Using digital X-rays, our dentist can detect cavities, gum disease, impacted wisdom teeth, and even tumors or cysts. Digital X-rays are also safer than traditional X-rays. They don't require any harmful radiation, and the images can be viewed immediately, which will help us make a diagnosis right away.
Reduced radiation
Digital X-rays use up to 90% less radiation than traditional film X-rays. 
Instant image preview and availability
One of the biggest benefits of digital X-rays is that they provide instant image preview and availability. Instead of waiting days for X-rays to be developed, we can now view the images right away on a computer screen and even zoom in for a more detailed view. Digital X-rays can also be stored indefinitely, making them a convenient and essential tool.
More comfort
Digital X-rays offer patients greater comfort than traditional X-rays. They emit a significantly lower level of radiation. When patients are exposed, they are more likely to experience side effects like nausea, vomiting, swelling, and other common discomforts.
Faster treatment
Digital X-rays not only provide a better picture than film X-rays, but they provide them faster, too. This means that your treatment can start sooner.
Call Dentist Aurora CO at Briarwood Family Dentistry or schedule an online appointment to know more about digital X-rays.